In a day and age when information is literally at the fingertips of consumers eager to find small, local businesses to satiate their shopping needs and whims, it is imperative that these businesses are equipped with discoverable internet platforms. When consumers far and wide are outfitted with smartphones that can find whatever it is they're looking for, often in more places than one, it would be a fatalistic oversight for businesses to not market on web-based platforms. It is now possible to reach potential customers, who are looking for the goods and services you're selling, anywhere in the world. While there is certainly still a place for offline marketing, it is widely accepted that internet-based marketing is now the standard for securing and maintaining new clientele. Learn why internet marketing is fundamental for local businesses looking to reach new consumers.
If you'd like to be in touch with a specialist, you can reach us at (949) 447-5090.
The Importance of Internet Marketing for Local Businesses
An appealing brick-and-mortar storefront on Main Street, America, well-traveled though it may be, is not nearly as successful in growing a customer base as it once was. Instead, nowadays potential customers strolling past your attractive storefront, have their noses buried in their phones. As a result, they miss the appeal of your charming or inviting business, no matter how appealing it is.
Your potential new customer walks or drives right past your business on their way to your nearest competitor because they were easier to find on the internet. And it's those customers who most need to see you. Your loyal customers will stick with you, but the new ones, the ones you need to notice you most, stroll right on by. This is where internet marketing steps in to help your small, local business.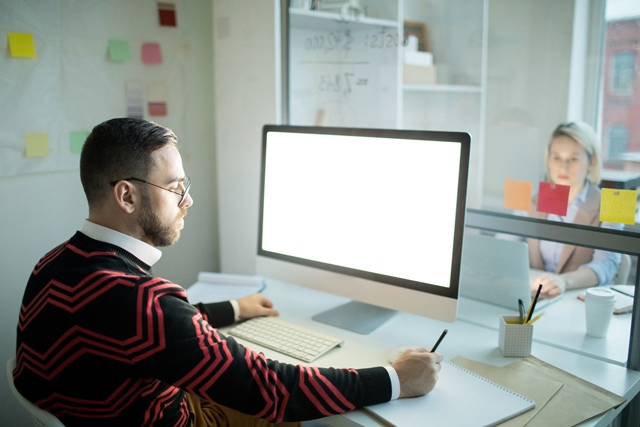 To begin, the internet is truly a highway of information. It's the first place consumers look for nearly everything. The days of flipping through printed advertisements are long gone. Instead, those antiquated newspaper ads, circulars, and placemats have essentially been replaced by local, organic, and paid ads online. Besides that, we are a generation of immediate gratification, a quality that is fueled by the expediency with which we can access information. Why not, then, capitalize on this modern way of marketing?
One of the many ways that small businesses appeal to consumers is through their online curb-appeal so-to-speak. In a world where appearance is as valued as reality, nothing is more important to local businesses than their online presence. Contrary to traditional marketing tactics, which historically have focused on increasing profit, online marketing focuses on earning a consumer's trust. Some of the many ways through which online marketing can do so are by providing free advice, useful tools, and entertaining distractions.
Moreover, consumers will likely gravitate to and interact with businesses that treat them like people instead of profit potential. As such, social media, mobile, e-mail, and other online marketing channels foster these connections. For this and other reasons, local businesses that employ internet marketing perform better than those that don't.
Internet Marketing Strategies to Generate the Most Customers
Now that we know why internet marketing is so relevant to generating customers for your small business, let's strategize. So exactly how can your business improve sales, attract customers, and set itself apart from the competition? See the list below for some potential online marketing strategies to improve your local clientele.
1. Claim Your Local Listings
Consumers looking for information about a local business typically defer to sites like Google and Yelp. Sites like these provide reviews from consumers like themselves. To best capitalize on this essentially free advertising, it's important to maintain a handle on the information being disseminated. Claiming, or acknowledging a listing as your own, shows customers that you not only own a legitimate business but that you support its presence on a given website. It's also recommended that you ensure that your business's contact information is accurate and even add photos of your establishment and the services you provide.
2. Create a Mobile-Friendly Website
Earlier we mentioned the fact that consumers rely so heavily on their smartphones and mobile devices to seek out businesses to patronize. However, if you want potential customers to navigate your website, in essence determining if your business is right for them, it's imperative to create mobile-friendly content. Websites that are not mobile-friendly can be difficult and frustrating to navigate.
As such, it's salient to consider using responsive web design (RWD) which makes websites navigable on all devices. Essentially, a responsive website orients its layout to fit the screen of any device whether that be a desktop or a mobile device. Resultantly, responsive websites are mobile-friendly, making your site's content viewable and approachable, no matter where potential customers are viewing from.
3. Provide Content Beyond Billable Goods and Services
Consumers expect more than great products and services from the businesses they patronize. Oftentimes consumers look to local businesses for advice and expertise beyond the goods and services they intend to purchase. A consumer may rely on a salesperson's fashion sense at their favorite boutique or the expertise of the clerk at the local hardware store. Providing advice like this on a business website is an effective way to engage with customers. If a patron can come to you and your site instead of a search engine, your estimable value increases. Even if a consumer doesn't buy from you at the moment, the respect that your business earned will not be forgotten and they will likely return in the future.
4. Create Effective SEO
Search Engine Optimization (SEO) is a process by which websites increase visibility in search engine results through improving one's website. There is a list of strategic steps a business can perform to improve the likelihood that its website will appear as a prospective consumer's search result. Some of these ways include improving keywords in your content, increasing your social media presence, and producing regular content.
The long and the short of it is that by optimizing your website you can improve your rank for both your business type and the neighborhood, town, or city you serve. In essence, by creating effective SEO you increase the likelihood that your website will return as a top search result to consumers searching for businesses like yours. Aidan SEO is the best SEO company in NYC for improving your business's internet visibility.
How Can Aidan SEO Help You?
The internet is the best way for local businesses to reach their potential customers. Gone are the days of print-based advertising; internet visibility and advertising are here to stay. If you're looking to attract new customers to your local business, Aidan SEO can help. We can help you create discoverable web content for your future customers. Contact us today to begin generating new business now.