Where To Find Sponsors On TikTok
1) Grow Your Following
You can't get access to the TikTok Creator Marketplace until you have at least 100,000 followers. You may be able to find sponsors prior to this follower count via outreach. But, the amount you make per 1,000 impressions is smaller on TikTok than on other platforms (more on this later). So I personally would be focused on hitting the 100,000 follower mark via trending TikToks before shifting my energy into finding sponsorships.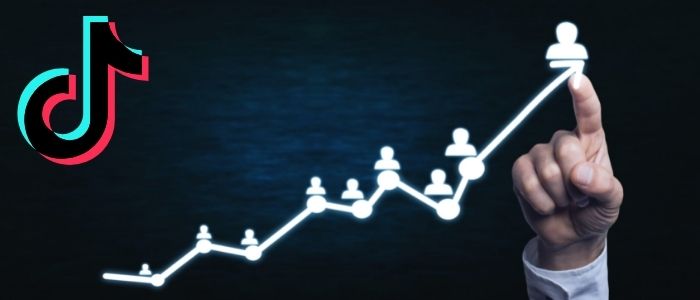 2) TikTok Creator Marketplace
You should be invited to the TikTok creator marketplace if you're over 18, have 100k followers, and received 100k likes in the past 30 days. This is like the official place where brands and TikTok stars can pair off.
The cool thing about the marketplace is you don't even have to do anything after joining. Brands will get instant access to your metrics and reach out to you if they think there's a fit. You'll simply get notified of offers from brands and accept whatever ones you feel are worthwhile.
3) Influencer / Brand Connection Marketplaces
Over the years, countless companies have popped up that promise to connect influencers with brands. While I recommend TikTok's official marketplace over these, it's not by a lot. These marketplaces may prove equally as effective; the problem is they're going to take a cut of the exchange (but so was the TikTok marketplace). That said, it's probably worth it if it allows you to secure better deals for less effort.
Here's a few examples of these types of marketplaces, but there are many more popping up all the time. So it is not even close to a complete list.
Activate
Brybe
Popular Pays
Tribe
4) Outreach
I usually list direct outreach to companies as the #1 way to get a sponsorship on other platforms (YouTube, Podcasts, etc.).
Unfortunately, TikTok is such a new platform (50 Million users in 2018 vs. 1 BILLION+ in 2021) that many marketing departments simply don't have a strategy for the platform yet. Meaning if you just blindly reach out to companies who may be a good fit, you're likely to experience even more rejection than you would on other platforms.
That said, some brands recognize that TikTok is the fastest growing social media platform on the planet, and they want in! They might try it simply to test out if they can make it work. So with a strong enough pitch, brands can be convinced to sponsor you.
Typically to find companies that do sponsorships, I'd simply have you Google "Company Name TikTok Partnership." Unfortunately, TikTok is new to the point where it's hard to find these pages for a brand and to even know who is even open to doing this sort of thing. This is why I prefer Influencer – Brand connection services over direct outreach (right now).
How Much TikTok Sponsors Pay
I alluded to this earlier, but brands will not pay as much per 1,000 impressions on TikTok as they would on other platforms. This occurs for a variety of reasons specific to TikTok.
There's no place to put an affiliate link (except your profile), so affiliate programs won't pay you very well.
Videos are usually 15 seconds max; there's no time for a 30-second ad read.
A branded TikTok is less likely to go viral than regular content (so they're not paying for potential upside).
Many big brands are still be scared of the platform. TikTok has a reputation as a sketchy Chinese company that's spying on you and promoting teenagers' OnlyFans accounts. This leads to less competition and lower prices.
TikTok hasn't been around very long (50M users in 2018, over a billion in 2021). Marketers currently don't have a grasp on how to produce the best ad and guarantee an ROI.
It's also important to note that there is never a set rate for sponsorships. This is very much an open negotiation between you and the brand. They're going to try to get as cheap of advertising as they can.
Anecdotally, I see reports of TikTokers gushing about getting offered $500-$1000 for a branded TikTok through the TikTok Creator Marketplace. And admittedly, that sounds like a lot. Until you realize you need at least 100,000 followers to get into the creator marketplace. Which puts the amount these creators are making through sponsorships in the $5-$10 per 1,000 impressions range. Assuming that's getting offered to somebody with 100k average viewers and not somebody with 500k+ (If that's what the latter is getting, it means rates are much lower).
This is among the cheapest form of online advertising available. Keep in mind that Facebook ads typically cost $10-$30 per 1,000 impression range. And those aren't delivered by a trusted influencer. So if you're getting offered $1 per 1,000 impressions, know that there's likely room to negotiate significantly higher rates.
How To Pitch Your TikTok To Brands
OK, so you've found some brands you want to approach and have a rough idea of what they should be paying you. Now how do you pitch them on your channel and get them to agree to pay you?
Well, we know that brands will want the following information.
Where to find your TikTok channel.
Why your audience matches their product.
Average video views on last 30-60 days videos.
Subscriber Counts.
Audience Demographics (Gender, Age, Geography).
If you have a video idea feel free to pitch it.
How Much Money You Want (though I suggest leaving this off and negotiating later).
OK, got all that? It's a lot of info, and people hate reading. So I suggest putting it all in one easy-to-digest infographic and sending that to the brand. It makes it easy for them to see if you're a good fit, and they're likely to reach back out to you with a yes if you fit the profile!
This maybe isn't the best example (as I created it for a YouTube creator). But it should give you a rough idea of what you need to create. Just a 1-page graphical resume for your brand, highlighting all the relevant stats.